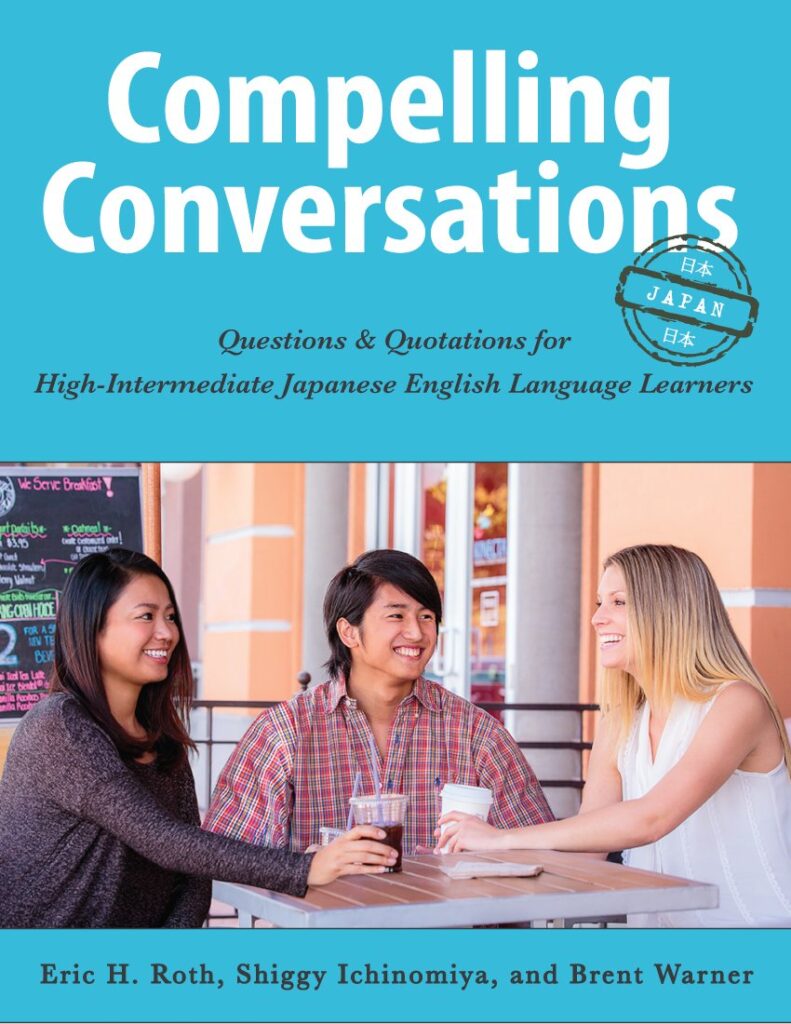 Description: These short speaking exercises, designed for Japanese English language learners, allow students to create compelling conversations. This abridged special edition of our culturally-specific 2015 conversation book, Essential Speaking Activities streamlines the communicative techniques used in prior Compelling Conversations books and provides easier access to new Japanese English language learners. Organized within 12 thematic chapters, this revised text helps Japanese ELLs describe their lives, share experiences, and develop critical thinking skills in context. Great for small conversation classes and private tutoring, Essential Speaking Activities highlights six fundamental classroom exercises per chapter to promote authentic conversation. This excerpts should also encourage more English teachers and conversation students to check out the longer, original textbook Compelling Conversations – Japan. Sharing Experiences – A set of 15 topical pair conversation questions that introduce each chapter. Photographs to Start Conversations – A small group activity centered around visual analysis and discussion. Paraphrasing Proverbs – Deepen critical thinking and build paraphrasing skills using sets of proverbs from all over the world. Pronunciation Practice – Improve English pronunciation by focusing on common problem areas unique to Japanese learners of English. Discussing Quotations – Students form and express opinions by evaluating famous English quotations from a variety of cultural and political figures. Search and Share – Students learn to summarize and synthesize information with this topical, research-based internet activity.
Description: Compelling Conversations – Japan: Questions and Quotations for High-Intermediate Japanese English Language Learners deploys a range of speaking activities, vocabulary expansion lessons, classic quotations, and search-and-share internet activities. The fluency-focused English as a Foreign Language (EFL) conversation textbook includes 12 thematic chapters that explores daily life in Japan and develops English skills. Designed to help Japanese English language learners describe their lives, share their experiences, and develop their critical thinking skills, the innovative conversation book includes activities for asking questions, paraphrasing proverbs, expressing opinions, comparing ideas, summarize articles/videos, discussing Japanese objects, and give reviews. Each chapter concludes with a communicative exercise where students find articles/videos online, summarize the material, and evaluate the information.
Chapter sections: Sharing Experiences, Vocabulary Expansion, Culture Corner, Ask More Questions, Photographs to Start Conversations, Paraphrasing Proverbs, Pronunciation Practice, The Conversation Continues, Discussing Quotations, Tell Me About Japan … in English, and Search and Share webquests. These speaking activities provide many opportunities for college students and adult professionals to develop, deepen, and practice their speaking skills in English.
The Resources and Notes includes reproducible instructor evaluation, peer review, and self-evaluation forms for student presentations; recommended EFL resources; an index of quotations; and an index of proverbs. Written by a team of experienced English teachers, this book expands upon the popular communicative techniques used in prior Compelling Conversations books and focuses on the specific needs of Japanese English language learners. This title is the fourth book in the critically-acclaimed Compelling Conversations series and the third book created for English language learners inside a country (United States, Vietnam). The three authors have taught English to college students and working professionals for a total of over 40 years, including 17 years inside Japan.
How to Pass the TOEFL iBT Test: Know what to expect to improve your score. (2012)
Description: How to Pass the TOEFL® iBT Test is designed to help teachers and students understand the core structure of the TOEFL iBT test.
One of the key problems for the majority of students in TOEFL preparation classes is a lack of understanding what is on the test. Many students complain that their TOEFL preparation teachers simply teach them "how to write an essay" or "how to skim and scan," and they rarely learn the specific skill sets they would need to move through the test with maximum efficiency. This book is designed to break down these skills into a short and easy-to-understand format.
When you understand what types of questions are asked on the test, you spend less time trying to figure out the meaning of the question and more time concentrating on the content. This is similar to a cooking contest: no one can prepare you by telling you what ingredients you will get or what recipe to make, but if you know how to use all the pots and pans and cooking utensils, you will be able to concentrate on what's important—the cooking! This book is here to present you with the "pots and pans" of the TOEFL iBT.
Articles / Contributions
TESOL Guide to Using Microsoft Learning Accelerators With Multilingual Learners of English – TESOL International Association (2023)
Engaging Students in an Age of Distraction – University Business (2020)
UB Tech Session Spotlight – University Business (2019)
Must-Have Apps of 2016 – Classtag Blog
Keep Students Talking After Class – CATESOL News
The Apple Watch – Cupertino's Non-Starter in Education – Edutopia
"Everybody, Please Take Out Your Cell Phones" – KQED Learning
Turn Your iPad Into a Smartboard – KQED Learning
EdTech.tv
The vast majority of my previous work went to my website dedicated to the integration of technology in education. These posts took the form of podcasts, blogs, and sometimes written articles.
EdTech.tv was regularly recognized across multiple disciplines and levels as a practical source for teachers to find applicable techniques to apply to their pedagogy. Developing and pursing this site allowed me to interact with top educators across the nation and the globe. The site is no longer updated, but has converted into other projects mentioned on this site, including the DIESOL podcast and the Higher EdTech Podcast.
To visit the archives, feel free to peruse the site at http://edtech.tv